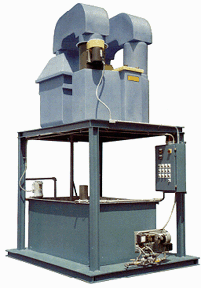 Heated Tank Evaporator System ™ shown with the ET-Companion ™ Condenser
The Poly Products Evaporator System evaporates water from process solutions and waste waters under atmospheric conditions. The highest evaporation rate can be achieved by heating the solution prior to pumping it into the evaporator.

This is accomplished by using our heated tank with either a gas-fired burner, steam coil or electric heater. The patented (#4790904) ET Evaporative Tank ™ is molded out of polyethylene, with no weld seams, for leak-free operation. With over 2,000 products in the field, the Poly Products evaporator has proven to be the leader in atmospheric evaporation of water.